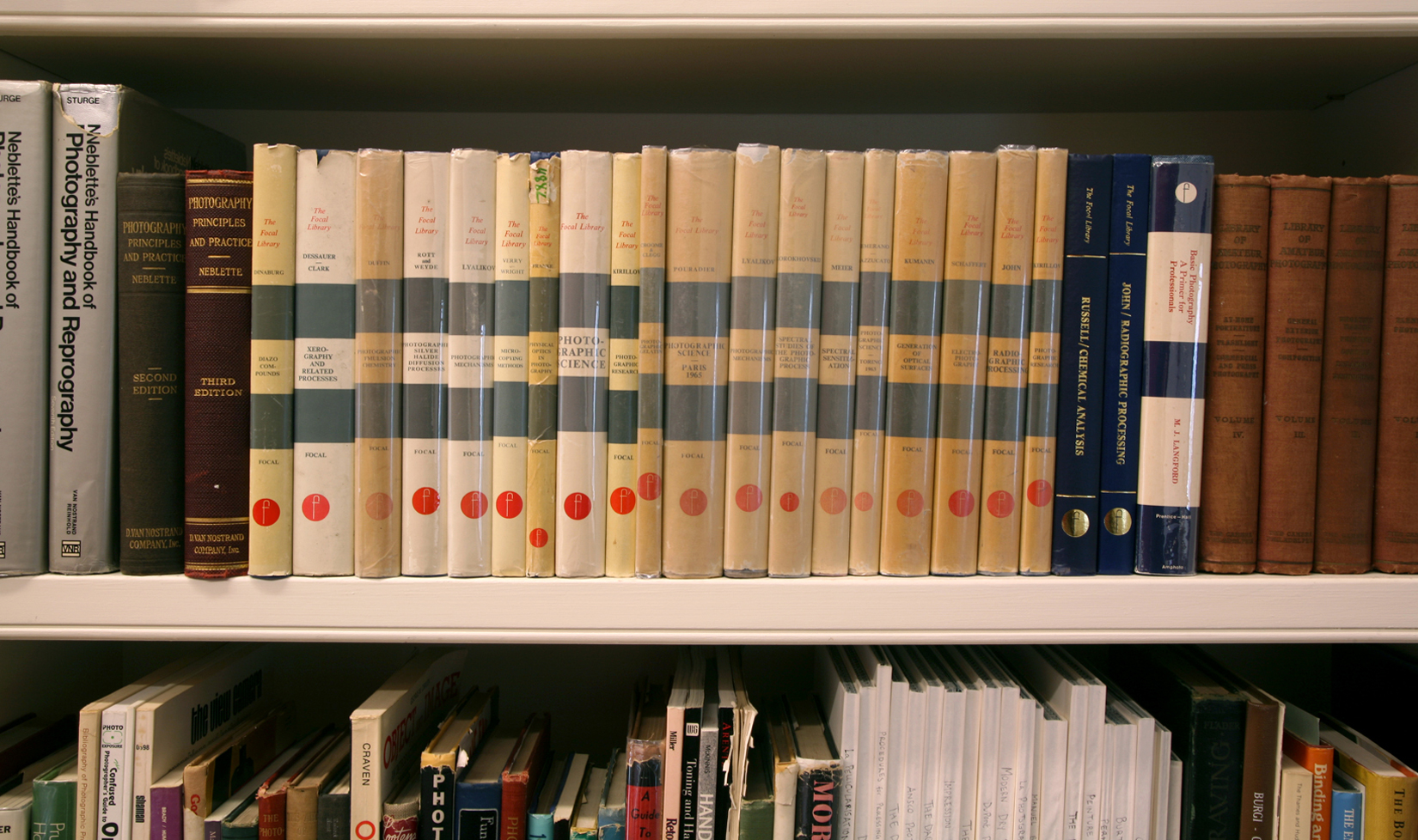 The Technical Library of The Better Image® began in 1986 with the merger of two working collections by principals Nora Kennedy and Peter Mustardo. Since that time the Library has grown to over 3,000 volumes, as we have added the growing literature on photograph conservation treatment and collected in the fields of technology, science, criticism and history.
Over the years we have diligently searched out and purchased both individual items as well as collections, all with a focus on the technical history of traditional analog photography. Along the way, we acquired many monographs that helped us to expand our knowledge of individual artists as well as the histories and movements of the nineteenth and twentieth centuries. Although the monographs on individual artists were not the primary focus of our Library, there are now significant holdings of valued monographs on photographers from Richard Avedon to Edward Zerbe.
With our combined sixty years in the field of photograph conservation we have an especially strong group of materials relating to the young field of photograph conservation. In addition to the monographs are ring-binder/notebooks from every Andrew W. Mellow Foundation Collaborative Workshop held over the span of years from 1999 – 2009. Preprints and postprints of many national and international conferences, a complete set of AIC's Topics in Photographic Conservation, and a number of graduate thesises from conservation students around the world.
The Library also has an especially strong group of foreign language materials, many of which were gathered from working visits to Mexico, South America, Brazil, Europe, Eastern Europe and other countries. Also of interest is a long run of Sotheby's Photography Auction Catalogues (1991 – 2010 along with many photography catalogues from Phillips, Christies, Swann's, Villa Greisebach and other auction houses. A few very early catalogues from Sotheby Parke-Bernet and small private sales also are collected here.
A select few photographically illustrated books are capped by a super-illustrated vellum bound, three-volume set of Augustus J.C. Hare's Walks in Rome (London, 1876) with each volume containing over one hundred and twenty mounted albumen prints. This is a rare find in exceptional condition. Other photographically illustrated books include: Tuscan Cities by W.D. Howells, Leipzig 1891; Ruined Abbeys and Castles of Great Britain by William and Mary Howitt, London 1862; Ruined Abbeys and Castles of Great Britain and Ireland by William Howitt, London 1864; Prose Masterpieces from Modern Essayists. London, 1896.
Bibliographic information is stored in a purpose-designed FileMakerPro database. The subject headings upon which the Library is organized for daily use are: Criticism, History, Conservation, Color, Biography, Photo Science and Individual Technical Processes. With thirty-eight fields, the TBI Technical Library can be searched by title, subtitle, author, editor, subject, date, place of publication and any combination of useful key-words. There is also a field that produces a bibliographic catalogue entry based upon a composite of entered fields. Cataloguing efforts and intellectual control have made TBI's Technical Library not only very useful but also readily accessible to interested parties. Appointments are required to schedule research time.
Access to bibliographic information on our Technical Library can be had by logging onto www.librarything.com and signing up free of any charges.